In the case when you will deploy IceWarp WebDocument VMWare image version 5.5 in VMWare Workstation and the error pop-up window will be shown

then here are two possibilities how to quickly fix it.
A, unmount .iso file from the image and try to deploy .ova file again
try to edit the CDROM reference in OVF to remotepassthrough to see if helps:
B, slowest but 100% function option is add machine from .vmdk file
1, unzip downloaded image file to folder by 7zip application (http://www.7-zip.org/download.html)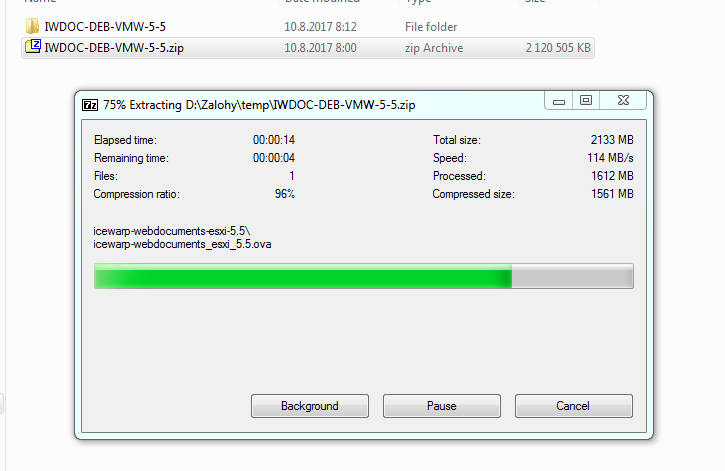 2, navigate to unzipped folder and use 7zip to existing .ova file and unpack it again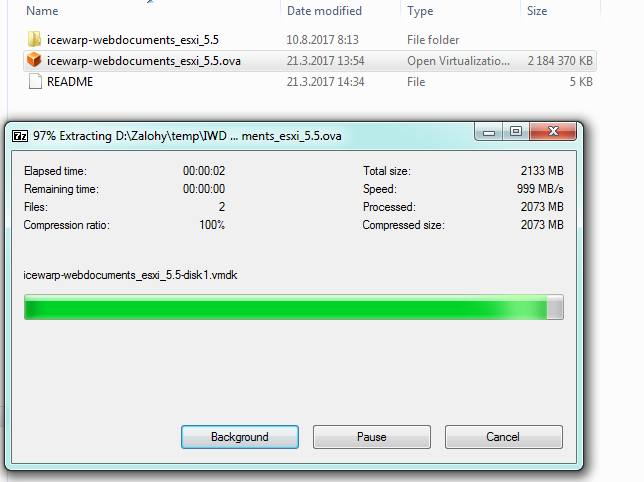 3, unpacked folder will include .mf; .ova; and .vmdk files

4, import .vmdk file to VMWare by the following instruction:
1.Step
Click "File," "New" and "Virtual Machine" in VMware.
2.Step
Click "Next" and choose "Custom" for your machine type.
3.Step
Choose "Legacy" if your VMDK file is from an earlier version of VMWare. Choose "New" if it is the current version. Click "Next."
4.Step
Choose the Operating System you are installing from the list and then select its version from the drop-down menu. If you do not know, click the radio button next to "Other." Click "Next" to continue.
5.Step
Enter a name for the virtual machine and then choose a folder to store it.
6.Step
Specify the number of processors you would like to use. This must match the number of processors on your computer. The default setting of "one" is the safest.
7.Step
Choose the amount of memory you would like to allocate to the operating system. Adjust the slider until it reaches the minimum requirements listed on the screen.
8.Step
Choose your network type and click "Next."
9.Step
Select "Use an existing virtual disk" from the Select a Disk window and click "Next."
10.Step
Browse to the .vmdk file on your hard drive and click it. Press "Open" to select it.
11.Step
Click "Finish."
Little modified steps can be used for VirtualBox.